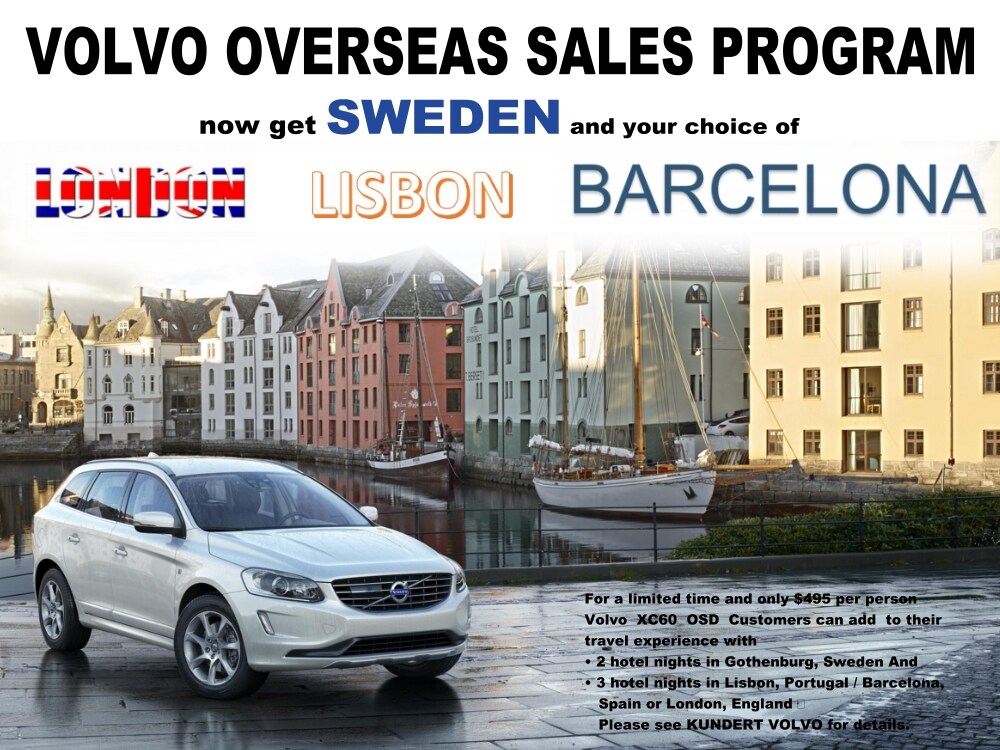 XC60 Winter Travel Experience


In addition to being able to customize your car and have round-trip tickets for 2 to Sweden to pick up your new Volvo from the Factory, when you purchase a new XC60 you can also take advantage of our "Ultimate Extra". In cooperation with our Concierge Travel office - we have created several European Winter travel packages to choose from. How does 3 nights in London or Lisbon or Barcelona sound? Add an additional night in Gothenburg and it becomes even more enticing.  


For a limited time, you can now take your vacation of a lifetime, then return home with your ultimate souvenir, your new Volvo XC60.  

What's included:
• 2 nights at the Hotel Post in Gothenburg - Includes Breakfast and Tax 
• Factory Tour and Traditional Lunch 
• Private Airport and Hotel Transfers
• Inter-European flights *
• 3-nights at a centrally located 4**** Hotel - includes tax and Breakfast
• Home Shipment of your new Volvo XC60
Rate per person: $495.00 (total for 2 $990.00)
This offer is valid on all new XC60 orders placed through OSD from September 7th 2016, with delivery and travel by March 31st, 2017. Please contact your local dealer for more information.
* Flights subject to availability at time of booking.  Due to flight schedules an overnight in Copenhagen or London may be necessary - at customer expense.
** One (1) winter package per car order. These packages have a value of $2500.00 for two persons.
*** Hotel Post in Gothenburg is 2 total nights.  1 night as part of the OSD offer and 1 additional night as part of the Winter Travel Package.
All travel bookings are handled via Corp Trav (Volvo Travel Concierge).
A customer may elect an additional travel package at their own expense - details will be handled via Corp Trav.
Volvo reserves the right to cancel or amend this program offer at any time without notice.
---
Call Bernie at 551-265-6057 with any questions.
---
Q: What is better than a Vacation?
A: A Volvo Vacation
Our Overseas Delivery is a first-class experience with an itinerary designed by Volvo exclusively for you.Your delivery experience will be a first-class experience with an itinerary designed by Volvo exclusively for you.Volvo Overseas Delivery customers. You will arrive Gothenburg, Sweden, and upon your arrival, we will be there to pick you up and drive you to your hotel. On the following day, you will be driven to the Volvo Factory Delivery Center where your new Volvo we be waiting for you. Our English-speaking staff we welcome you with warm smiles and they will give you you time to relax in the exclusive state-of-the-art facilities of the Volvo Overseas Delivery Center. One of our staff members will help you get to know your new Volvo and all its exciting features. After meeting your new Volvo, you can experience the wonder of our Swedish culture with lunch and fika.You will then be invited to take a Factory tour and you will see where your new Volvo came to life and discover what makes it so unique at the Volvo Cars Brand Experience Center.After you visit, your adventure begins. It is now time for you to get to know your new Volvo one on one. Turn it in and hit the road and begin a new adventure in Sweden, the birthplace of your new Volvo.
For more information, compete the form below and we will get back to you shortly.


Got Questions?

Call Bernie at 551-265-6057
or complete the for below and we will do our best to make it easy for you to become a customer.